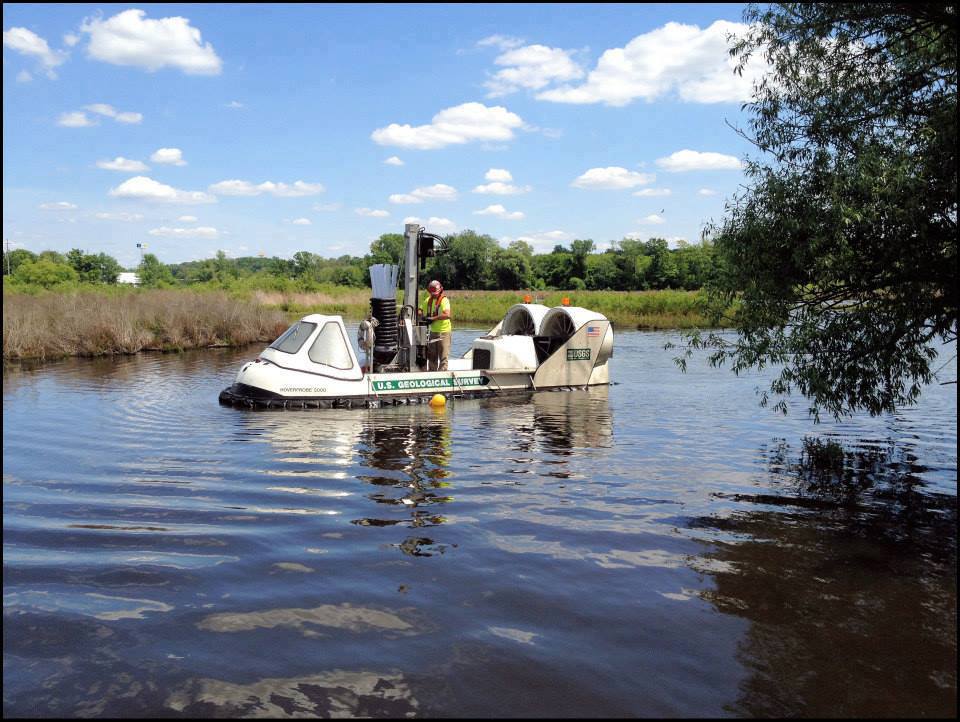 Hoverprobe 2000 Features and Options
Hovercraft Payload (with MetaDrill): 2,000 lbs (907 kg)
Hull: 22' (6.70 m) long x 9' (2.75 m) wide
Choice of Hull Colors: RED/WHITE/YELLOW/BLUE
Speed: 35 mph (56 kph) on calm water, 40 mph (64 kph) on smooth ice
Max Wave Handling Capacity: 2 ft (60 cms)
Turning Capability: 180 and 360 degree turns on land, ice and water
Standard equipment:
General Motors 4-cycle, V8 multi-port, fuel injected engine
12v electrical system with 90 amp alternator
Dual 850 cca batteries with battery master switch giving OFF-1-Both-2 positions.
Thrust system comprising: Twin 39" (990 mm) ducted, twelve blade fans with air-straightener arrays driven by Goodyear Eagle® Kevlar® Vee-tooth cog belts; ten cable-operated air rudders and removable fanguards
Electric actuator controlled splitter plates with dash mounted rocker switches allowing variable lift/ thrust settings for speed and cushion control on the move. Electronic displays on instrument panel show position of splitters
Integrated lift and thrust air system with Hypalon® coated skirts, rear mounted drag flap, six hardened aluminum replaceable skid rails. Kevlar® bottom hull made of hand lay-up woven roving plus sealed polyurethane foam liner with high freeboard sides
Woven roving fiberglass inner hull with glossy gelcoat finish
Flat non-skid cockpit floor 5 x 15 feet (1.5 x 4.5 m) overall with 18 inch (45 cms) high cockpit sides
Transverse mounted three person box seat with snap on cushion seat for pilot plus two crew members
Crew protection windshield comprising rigid fiberglass, gelcoat structure with large curved windshield, two side windows with short roof; plus windshield wiper and washer system
Steering and Stopping: Hydraulically controlled multi-bladed shutters combined with splitters provide deflection of the thrust air into the thrust system for stationary hovering and stopping. Steering is provided by 10 full length rudder blades cable controlled from the handle bar which also mounts the control buttons for the splitters and the stationary hover louvers. The fans generate 600 lbs (270 kg) of forward thrust.
Hinged access instrument panel with tachometer, voltmeter, fuel gauges, engine oil pressure gauge, coolant temperature gauge, hydraulic louver position displays, hourmeter
Air-cushion system: Skirt length below hull structure is 12 inches (30 cms). Seventy-six Hypalon® coated skirts with 250 lb (113 kg) breaking strain Deltec® ties. Heavy-duty 55 inch (140 cms) rear drag flap.
Fuel System: Two 15 US gallon (56 l) painted aluminum fuel tanks. Dual electric fuel pumps; water separator fuel filter; dual external fuel filler caps; dual fuel gauges.
Electric System: Twelve volt twin 875 cca maintenance-free batteries with 90 amp alternator; dual duct-mounted strobe lights and USCG navigation lights.
Two 2000 gph (7500 l/hr) bilge pumps.
Drill Mounting: Special 2 x 3 inch (5 x 7.6 cms) aluminum angle underfloor reinforcements mounted on stringers to give added rigidity to the hull structure; rectangular heavy aluminum mounting plate to support the drill. Centrally located 6 ½ inch drill hole through the bottom hull fully sealed against water entering the hull. Complete with removable cap for use when craft is in motion. Twenty gallon underfloor hydraulic oil tank for operating drill.
MULTI-SONIC Core Drill hydraulically driven by counter-rotating cams and capable of producing 15,000 lbs (6,800 kg) of centrifugal force at 220 Hz vibration. The drill is capable of recovering at least 100 feet (30 m) of NQ core in 5 foot (1.5 m) sections. It should be capable of conversion to rotary coring if necessary. The multi-sonic drill is fabricated from light but strong alloys wherever possible to save weight and ergonomically designed for operations on limited deck space. The mast of the drill tilts horizontally to the front for transport between drilling sites and over the road.
Accessories and Safety Equipment: Two fire extinguishers, two grapple poles, emergency tool kit, USCG capacity plate; safety decals
Options: Mustang® survival suits and vests, radio, GPS